If you wish to identify a ladies' Hamilton model, please follow this process.
Step 1. Browse through the ladies' model catalog page here:
http://www.vintagewatchforums.com/viewt ... =41&t=2754
If you do not see your model in the catalog pages, refer to Step 2.
Step 2. Post photos of the front of the watch, the back of the watch, the movement and the inside of the case back.
A large percent of ladies' diamond models are not factory Hamilton models. They are aftermarket custom or jobber cases with Hamilton movements and dials. These will not appear in the catalogs. A genuine Hamilton diamond watch will say "Hamilton Watch Co Lancaster PA" on the inside case back. If you do not see this, it is virtually impossible to determine the origin of the watch in question.
Please read the note on this Hamilton catalog page.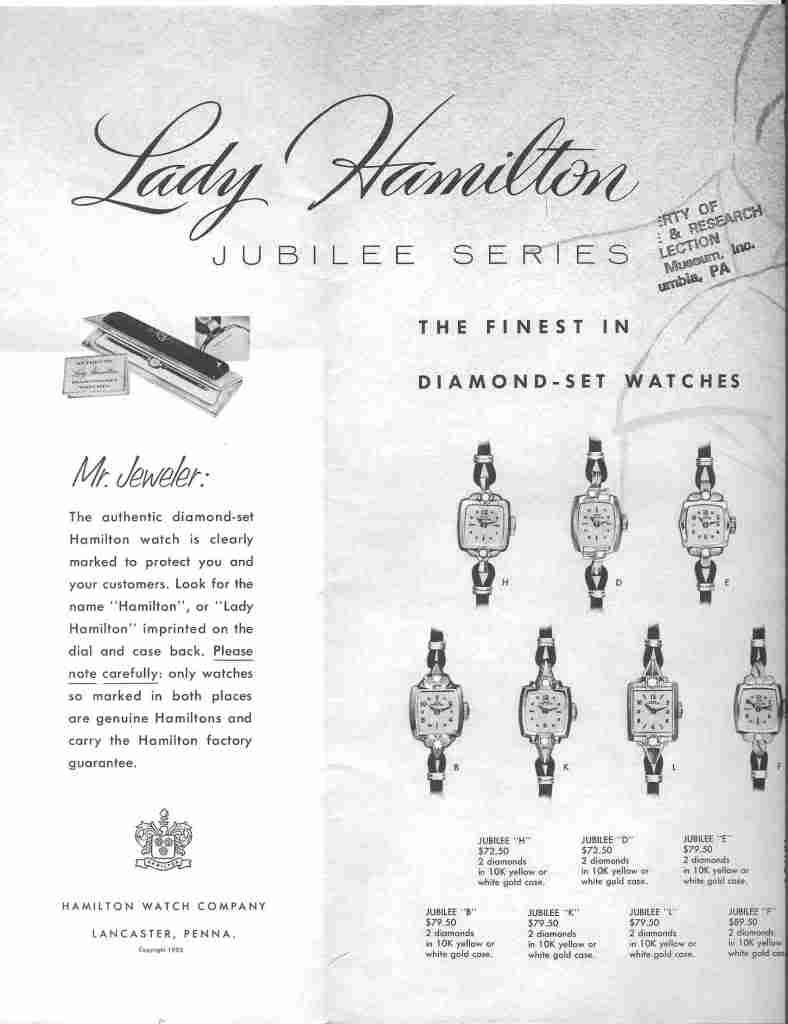 I refer you to this earlier post from "HamiltonElectric" who describes the situation well.
hamiltonelectric wrote:I'm quite certain that jewelers did buy complete watches and scrap cases. Especially for the huge number of diamond ladies' cases that are not factory. I used to run into piles of NOS ladies' cases, complete with stickers on the back, which could only have come from such scrapping.

Plus, there's Hamilton's 1957 letter to jewelers. Especially #4: "Any Hamilton representative who sells you watches with the express or implied understanding that they may be used for recasing is exceeding his authority." Clearly Hamilton salesmen had to know when an unusually large order of the least expensive models was placed that they were going to be scrapped for their movements.

I really don't think there were enough old movements in watchmakers parts drawers to assemble so many recased watches.

EDIT TO ADD:Most are 980, obviously because of cost. I suspect that sometimes they had no choice but to move up to a 14K gold-filled 982, but In 30+ years I have never seen a 982M, which would have come from a solid gold case. That's one more reason why I think they scrapped cases. If they used older 'junk' movements they would more likely have 982M since scrapping a gold case would be more profitable. (Which is why we see so many today.)